There are many churches in Jávea – we just happened to register the domain name – Jávea Church.
We are a Jávea Evangelical Church, meeting 21st century need with 1st century Christian compassion
Ann took the sunrise photo at 7.40am, from the balcony apartment, on Easter Resurrection morning – 5th April 2015. The sunrise reminds us there could be no resurrection without Jesus first dying on the Cross. It is completely unretouched or processed.
Our services are at 11am on a Sunday with everyone welcome at the table of Holy Communion. Free refreshments are served at the end of the service, to create the opportunity to make new friends or ask questions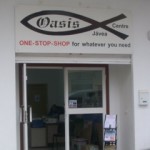 Jávea Church is based in – founded and operate – Oasis Help Centre, at the back of La Caixa bank in the Port area of Jávea, Calle Toni (Antonio) Llido Nº 5, Jávea 03730 (GPS-N:38.793196 and E:0.180900) where we moved in 2013 after 3 local suicides in 10 days.
We needed to be back where the people could find us.
Telephone contact (0034) 669 386 702.
It publishes the Spanish-language version of The Word For Today www.ucbspain.org
Clive is Primate Archbishop of The Anglican Independent Communion – Worldwide www.aicwonline.com
We extend a WARM WELCOME when you visit (or come to live in) Jávea. If you are undecided about relocation, you can obtain unbiased advice from clive@cliveread.com
What have you got to lose by joining Jávea Church – apart from your loneliness?